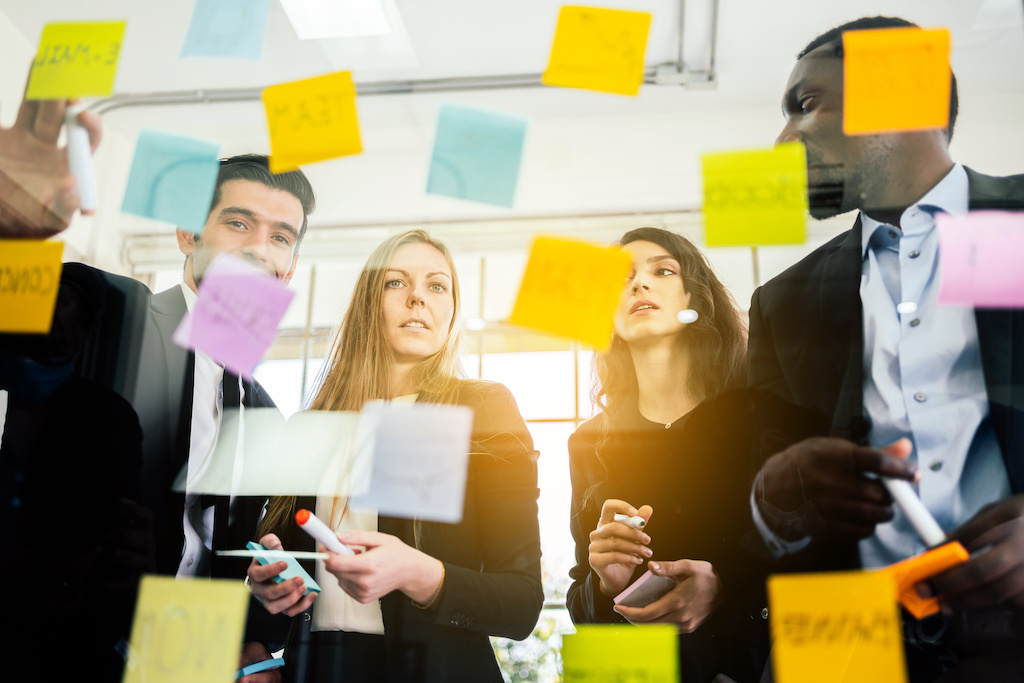 The Value of a Workshop: Starting on the Right Foot
February 13, 2023
ERP system implementations are vital for any growing business, which is why every project we work on starts with a pre-implementation workshop built with success in the end in mind. In this article, get insights into your upcoming ERP implementation workshop with OSI.
If you don't know where you are going, any road will get you there.
Lewis Carroll
Combating negative industry trends with a highly collaborative approach
Lewis Carroll might have meant the above quote in a whimsical and witty way–but at OSI, we like to take it literally.
Through our many years of experience, we learned that ERP implementations don't fail because of the technology–they fail because of the lack of planning, leadership alignment, or business process inefficiencies. Industry data on ERP implementations states that 50% fail the first time around, cost much more than was initially budgeted, and can take 30% longer than anticipated.
OSI combats these negative industry trends by initiating a collaborative workshop environment as the very first step to any engagement. Our team allots a full week to meeting your team and identifying all business processes that will be impacted by the ERP implementation. We analyze your situation, goals, and timeline, and then advance and simplify future phases of work by optimizing the more critical parts of your business system.
At the end of the workshop, we provide our clients with a fully comprehensive ERP Implementation Plan that includes several options–budgets and time commitments included–which all parties will need to adhere to in order to achieve our identified outcomes. Our approach allows clients to have a high degree of confidence in the solution selected. Through our workshop deepdive, we hope to help you feel assured that your desired digital transformation will be achieved–planned, and on time.
What is our Bridge to Integration Workshop?
ERP implementations are a huge step for your organization, which is why every project we work on starts with a pre-implementation workshop built with success in the end in mind. Should you decide to go with OSI as your ERP implementation partner, our workshop is specifically designed to help us determining the scope of the potential project, optimize your processes, choose the tech stacks, establish your integration and implementation plan, discuss system training options, and iron out an all-inclusive budget for the specific timeline we've agreed upon.
Specifically, your organization can expect the workshop evaluation to be comprised of:
Needed requirements gathering: Aligning the group on implementation requirements with your key decision makers present
Focusing the attention of all involved in the implementation on a concise review of the end-to-end process.
OSI will level-set understandings of your ERP requirements within your organization.
Why do we consider workshops so important?
As goes with any partnership, underlining the terms and setting expectations is key to ensuring success. Decision makers on both ends of the partnership need to be sure they're aligned on all aspects of the process to come. Otherwise, when it comes to projects as large as a full-scope ERP implementation, things can get messy. A workshop builds good communication into the project from the start.
A successful workshop will:
Determine your organizational readiness for a new ERP system
Help you understand the scope required for your implementation
Allow us to more accurately estimate the scope of the engagement
Prevent massive budget and time overruns
Provide decision makers to act based on realistic budget expectations
Identify goals of implementation and roadmap to complete these goals
Create prioritization of goals and possible phases to rollout deliverables
Help you understand your organization need for an ERP system
Help promote change readiness throughout your entire organization
Allow us to become familiar with your organization and how best to shape your ERP implementation to facilitate your requirements.
Where will the workshop take place?
At OSI, we offer full flexibility. We want you to be comfortable during the workshop, with convenience and time acting as our top priorities. That said, workshops can be performed:
In person at your organization
In person at one of OSI's regional offices
Virtually
Who exactly is involved in the workshop?
As noted above, meeting either virtually or in person allows you to meet the OSI team and determine if you'd like to select us as your ERP Implementation team. Given that the success of the vast majority of ERP implementations has to do with the ERP team, not the software solution, it is important to make sure that your ERP integration team understands your organization before investing in a project, and to ensure your chosen integrator owns the proper competency in assisting you in your end goals.
As for our integration team, our approach has always been to hire business professionals with differing areas of expertise. Our team is composed of CPAs, CMAs, MBAs, as well as Warehouse, Manufacturing, Engineering, and Field Service experts, whose skill sets we'll match to your industry's specific needs.
How will the workshop flow?
Our approach is to guide you through each of your functional areas required in your ERP implementation. In general, this will include following a scheduled outline that keeps meetings on track and on schedule, as well as ensuring we don't miss gathering any valuable requirements.
In the interest of gathering all requirements, we'll take it upon ourselves to lead these workshops and ask all necessary questions. Of course, we ultimately view our projects as a kind of collaboration, but will take the reins and point your project due North in an effort to assure your organization that all is in good hands.
Deliverables: What can you expect as a result of a workshop?
Concluding an integration workshop, you'll receive documentation of all information gathered at the workshop in an organized format. This includes but is not limited to:
Documentation of your Order to Cash and Procurement to Pay workflows
Key requirements/takeaways
KPI's to assist your organization with your ERP decision making process and ROI's that you can expect from these deliverables
Your organization's pain points
Proposed schedule to fit your required go-live dates
Risks that we've identified
Requirements by functional area
Scope of Integrations required
Gaps in the software and options to fill these gaps, including proposed applications already developed or configuring the software to your needs.
Steering clear of a piecemeal approach
In the event of any kind of software implementation, requirements will need to be gathered eventually. Which is to say that if these requirements are gathered piecemeal throughout the implementation itself, then this will be billed at our hourly rate. Not only is this the more expensive approach, but can also lead to a muddier execution of the implementation process throughout. The ultimate value of a workshop is to conduct vital requirements gathering for a more efficient, more successful, implementation.
Get Started
Take the next step to connect with us and discover the power of Odoo. We look forward to speaking with you!